Demo Features in Dispatcher Phoenix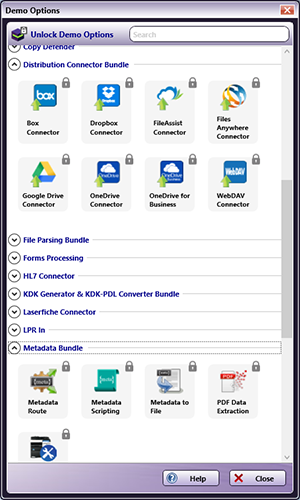 For businesses today, workflow automation is a key factor in creating an efficient and successful work environment. With Konica Minolta's Dispatcher Phoenix, users can say goodbye to manual-based, tedious tasks, errors, delays, and even costs. Employees' time is saved, allowing them to focus their attention on the tasks that allow their business to thrive. The benefits and strategic advantages of workflow automation are well known, but, organizations who use Dispatcher Phoenix may not be aware of ALL of the challenges that an automated solution can help their business overcome. Now, with Dispatcher Phoenix's new 30-day demo licenses, businesses can quickly install and evaluate additional functionality that will add even more power to their workflow.
Using Dispatcher Phoenix's new demo licenses, every existing customer has the opportunity to incorporate any Dispatcher Phoenix optional module or feature into their workflows for free for a 30 day period. With this capability, customers can quickly and easily evaluate the effectiveness and potential return on investment (ROI) that any add-in module will provide to their business processes. Since demo licenses offer full functionality, stakeholders can gain a better understanding of the value and efficiencies that each individual feature could provide to their organization. Dispatcher Phoenix is constantly evolving, and our existing customers deserve the opportunity to experience every functionality we currently offer.
Activating demo licenses is extremely easy. Using the existing Workflow Builder Tool, you can seamlessly activate and install a demo license from the Demo Options node palette. Once installed, you can quickly implement the demo node into your workflow. Activating demo licenses into a Sample Workflow is also very simple; just double-click on any unlicensed node icon and the feature will be automatically installed as a Demo.
Here are some examples of how Dispatcher Phoenix's optional modules can further optimize productivity.
Secure your document processing tasks further with:
Redaction: Permanently remove sensitive or confidential information from documents with intelligent Redaction technology.
Release2Me: Hold print jobs in a queue until release at the MFP by an authenticated user with Release2Me, a convenient print release solution that helps our customers secure their confidential information and eliminate unwanted or duplicate copies. Since users only print out the documents they need, Release2Me helps companies secure their printouts and reduce their overall printing costs.
Route and Store Files Efficiently:
Scan, index, and upload documents to leading content management systems, such as Dropbox, OneDrive, Box, Google Drive, FilesAnywhere, OnBase® by Hyland, Microsoft SharePoint® and OneDrive, Worldox® by World Software, Workshare, WebDAV, Laserfiche, and FileAssist, Konica Minolta's cloud-based document management solution.
Eliminate Manual Tasks:
Advanced OCR: Use OCR zones to extract data from scanned documents. Rename, route, and identify files based on OCR results, or import extracted data into a back-end application.
File Conversion: Convert files to PDF file formats, such as PDF Searchable and PDF/A for archiving, or popular Microsoft Office formats, such as Word and Excel.
Forms Processing: Use advanced pattern matching to search for and process important information, such as Social Security Numbers, Telephone Numbers, and Credit Card Numbers.
And much more! Try 30 Day Free Demos Today!