Dispatcher Phoenix Honored By Leading Industry Analysts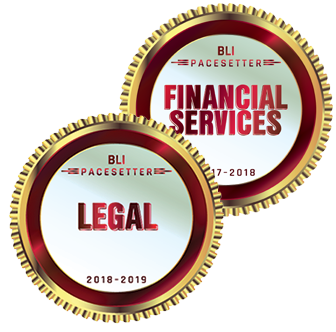 We are proud to announce that Dispatcher Phoenix was noted as one of the key reasons behind Konica Minolta's recent BLI PaceSetter awards. Keypoint Intelligence, a premier market intelligence company for the digital imaging industry, offers expert knowledge to the global marketplace, and its recent study of the legal and financial services industries resulted in two PaceSetter Awards being awarded to Konica Minolta for, among many reasons, the strength of its solutions portfolio.
Dispatcher Phoenix Legal Dispatcher Phoenix Legal is Konica Minolta's flagship process automation application for law firms and legal organizations. This award-winning application streamlines time-consuming document processing tasks via customized workflows, a major benefit in the document-intensive legal field where law firms struggle to manage their document processes, comply with security regulations, and protect the confidentiality of their clients' information. With Dispatcher Phoenix Legal, legal organizations and firms can save time, reduce costs, and free up resources with the following key automated features:
Flexible, advanced Bates stamping for discovery preparations.
Intelligent redaction to permanently remove confidential information from case files, depositions, etc.
Easy and accurate file conversion to PDF Searchable and PDF/A for text searching and document archiving.
Automated file splitting to comply with e-filing judicial requirements.
Direct connectors to legal document management systems such as SharePoint, Worldox and Workshare for easy file storing.
Intuitive Workflow Designer tool to quickly create custom workflows to suit specific business needs.
LiveFlo technology to visualize files running through a workflow in real-time.
Full MFP integration with document indexing and folder browsing at the MFP.
Mobile app for on-the-go workers.
Much more.
According to Keypoint Intelligence, "In the study, Konica Minolta stood out in every category evaluated...On the software front, the company offers its own legal-focused workflow solution, Dispatcher Phoenix Legal, along with an array of third-party solutions to handle output accounting/billing, document and records management, e-discovery and forensics, and more."
To learn more about Dispatcher Phoenix Legal and how it can help your legal workflow, please see Konica Minolta's Legal TV channel.
Dispatcher Phoenix Finance Dispatcher Phoenix Finance allows financial providers to handle, manage, and protect a wide variety of documents, such as statements, loan packages, records, credit applications, and more. Hard-copy financial documents can be scanned from an MFP, indexed, processed, and then transmitted via email to headquarters, branch offices,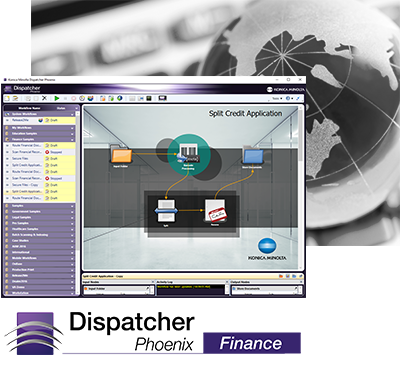 or mobile professionals on the go. Dispatcher Phoenix's key document processing features for the finance market include:
Scanning and converting financial documents to Microsoft Excel, Word, Searchable PDF, PDF/A, and other formats for future access, editing, and easy retrieval.
Automatically indexing documents based on extracted customer information, eliminating the need for manual data entry.
Easily storing files in OnBase by Hyland. Dispatcher Phoenix's direct connector provides single sign-on, automated indexing features, and the ability to process files before they are sent to the correct location in OnBase, a popular document management system for banks and financial firms.
Applying date/time stamps and other important annotations to processed files.
Intelligent file routing to ensure that different types of documents are distributed correctly.
Recognizing both standard and 2D barcodes for speedy file processing based on barcode value.
Converting files to password-protected PDFs to safeguard customer information.
According to KeyPoint Intelligence's report, "The company also has a tremendous portfolio of software solutions to leverage, including Dispatcher Phoenix and Hyland OnBase to help streamline workflows."
To learn more about Dispatcher Phoenix Finance and how it can help your financial customers, please to go the SEC website.