Bubble Grader Changes the Way Teachers Grade
Dispatcher Phoenix Bubble Grader streamlines the test creating and grading process for teachers. With this solution, teachers can create personalized answer sheets for their students to take tests. These tests can then be scanned and graded with a press of a button at the MFP, saving teachers countless hours of staring at tests and manually grading them. In addition to saving time, Bubble Grader will save school systems a great deal of money without the need to buy expensive pre-printed bubble sheet paper. Bubble Grader has been recently upgraded with an even wider range of powerful features to further improve the efficiency of the grading process.
With Bubble Grader, you can: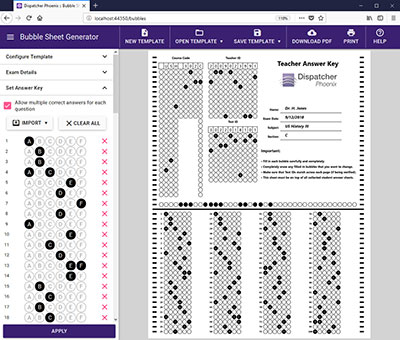 Customize bubble sheet tests using a web-based tool. Now you can make student answer sheets on your own with the new web-based generator tool, which allows you to personalize everything on your students' tests. Create a completely original test template with a handpicked logo, and make your tests stand out. Customize every aspect of your tests by choosing exactly how many questions you want your students to answer, and then decide for yourself how many answers they have to choose from. Have the freedom you need to create different tests for each classrooms' specific needs.
Support multiple answers. Now there are even more customization options for any test you create. If you need to create a test that includes questions with more than one answer, Bubble Sheet Generator has the "answer" for that. Bubble Grader now supports grading tests in which students can choose multiple correct answers for each question.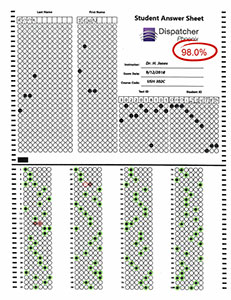 Display grades on tests. For easy grade viewing, you can also choose to have test scores automatically printed right at the top of the page in either a fraction or a percent, depending on your personal preference. There is absolutely no need to handwrite anything or add up the score in your own head — saving you time and peace of mind.
Automatically generate test IDs for grading security. With one quick click of a button, you can now automatically generate Test IDs to ensure grading security. Instead of having to create your own ID number, the "Generate" button located right next to the Test ID field in the Bubble Sheet Generator tool will do it for you.
Save bubble sheet tests. You can save tests as templates for later use or modification. Templates are saved per user so that they can be accessed from any computer with access to Bubble Sheet Generator for even more convenience.
Print tests on plain paper. Now, instead of having to buy expensive bubble sheet paper every time you need to give a test, you can simply print your customized student tests and answer keys on regular, plain paper, saving you a lot of money as well as time.
Import tests. Templates can now be imported - a real time saver! With the ability to import, managing templates just became even easier and more efficient.
Download tests. PDF versions can also be saved to your computer when you select Download, offering even more options for managing your test templates.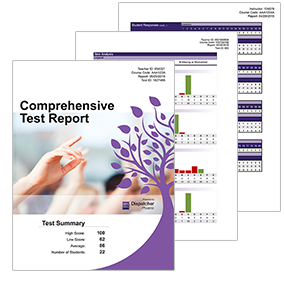 Generate reports. And, of course, our powerful Reporting capabilities allows you to easily and quickly access your students' performances and evaluate/adjust your classroom instruction.
This new web-based version of Dispatcher Phoenix's Bubble Sheet Generator tool provides teachers with more flexibility when creating test answer sheets. With all of these new features, grading has become even more efficient and cost effective with a simple scan of bubbles created on a plain sheet of paper. Bubble Grader automates every step in the test grading process, giving teachers more time to focus on teaching.
To learn more about how to set up your Bubble Grader workflow, please see the Dispatcher Phoenix Online Help site.